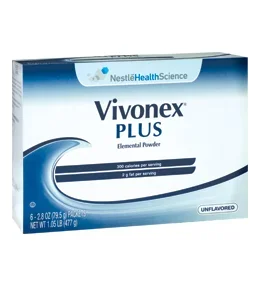 VIVONEX® PLUS Elemental Formula is 100% free amino acids for severely compromised GI tracts; 6% of calories from fat for improved tolerance and reduced pancreatic stimulation; Additional free glutamine, arginine and branched-chain amino acid (BCAA) content make it useful for stressed, catabolic patients.
The patient only requires minimal digestive functionality for assimilation while providing benefits associated with continued use of the GI tract.
Enquiry: 8202 9876
 Available in: Cheers, Hospital rehab shop (may need to pre-order with retailer)
---
Energy Density: 1.0 kcal/mL
Protein Source: free amino acids
L-glutamine: 9.5 g/L
L-arginine: 5 g/L
Severely impaired GI function, which may result from the following conditions:
Severe protein, fat malabsorption
Extensive bowel resection
Malabsorption syndrome
Select trauma/surgery
Intestinal failure
Pancreatitis
Chylothorax
TPN alternative
Dual feeding with TPN

FOOD FOR SPECIAL MEDICAL PURPOSES
USE UNDER MEDICAL SUPERVISION
Maltodextrin, L-glutamine, modified corn starch, soybean oil, L-leucine, L-arginine acetate, and less than 2% of magnesium gluconate, L-lysine acetate, L-isoleucine, L-valine, calcium glycerophosphate, L- phenylalanine, sodium citrate, L-threonine, potassium citrate, L-cysteine hydrochloride, citric acid, L-methionine, L- tyrosine, L-histidine hydrochloride, L- aspartic acid, L-proline, L-tryptophan, sodium phosphate, potassium chloride, choline bitartrate, L-serine, L-alanine, L- glycine, potassium sorbate and BHA and BHT and D-alpha-tocopherol (to preserve freshness), ascorbic acid, taurine, L- carnitine, zinc sulfate, niacinamide, ferrous sulfate, DL-alpha tocopheryl acetate, calcium pantothenate, copper gluconate, pyridoxine hydrochloride, manganese sulfate, thiamine hydrochloride, vitamin A palmitate, riboflavin, folic acid, biotin, chromium chloride, potassium iodide, sodium molybdate, sodium selenite, vitamin K1, vitamin D3, vitamin B12.
Mixing Instruction: 
To prepare 300 mL of 1 kacal/mL formula: 
Add one packet to 250 mL of warm water in a 500 mL or larger container. 
Cover tightly and shake for 20 seconds. Any remaining undissolved particles will dissolve after standing 5 -10 minutes.