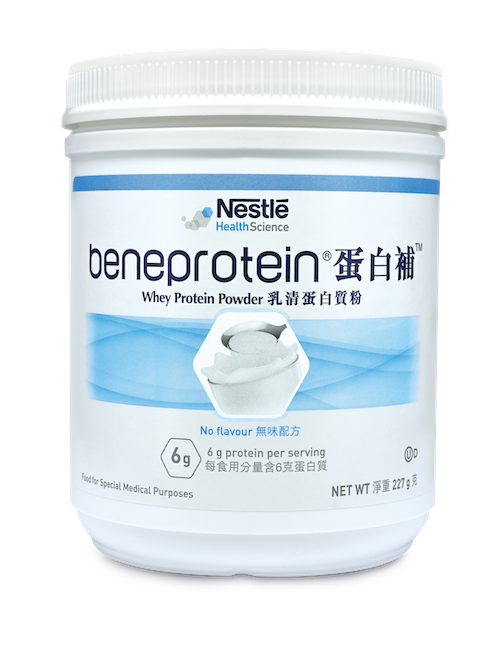 BENEPROTEIN® Instant Protein Powder is a concentrated high-quality whey protein powder that supplies the protein need to help maintain muscle mass and repair body tissue.
Enquiry: 8202 9876
---
Designed to be added to hot or cold liquids or foods
Tasteless and odourless, does not alter the taste and appearance of the liquids or foods
High concentration of whey protein
Easy to mix and dissolve quickly
Each serving (7 g) contains about 6 g of protein, which is approximately equal to the amount of protein in one egg1
#Food Nutrient Calculator, Nutrient Information Inquiry System, Centre for Food Safety.
Protein calorie malnutrition
Elevated protein requirements for renal (dialysis) or wound management
Whey Protein Isolate (Milk Product) – 99%, Soya Lecithin
Allergen information: Contains milk and soyabean products.
Mixing instruction: 
Stir one scoop (enclosed) of powder into at least 4 fl oz (118 mL) of a beverage or food (The suggested mixing temperature range is between 4-70°C) until dissolved.
Mixes instantly into a wide variety of foods and beverages e.g. soup, congee, oatmeal, coffee, tea, juice, etc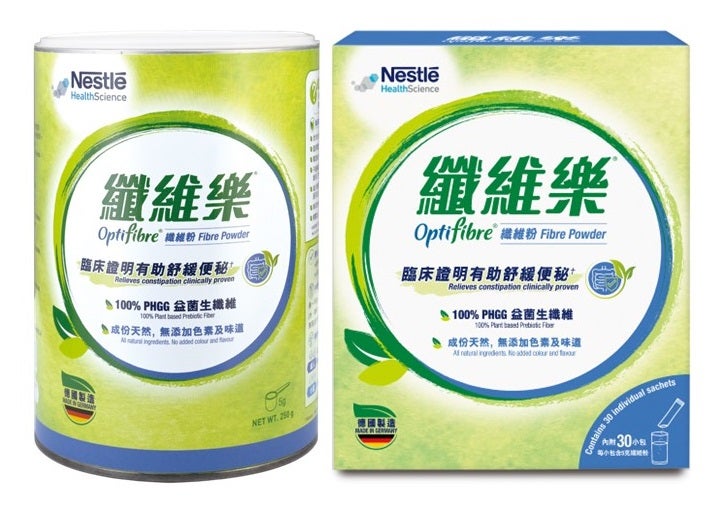 Optifibre™
Optifibre™ is a concentrated source of soluble fiber from 100% partially hydrolyzed guar gum (PHGG) that helps promote gut health