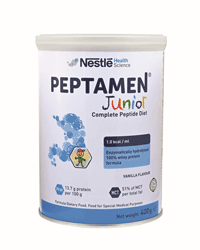 NESTLÉ® PEPTAMEN® Junior is a nutritionally complete peptide-based elemental diet formula for Pediatric patient 1-10 years of age with documented gastrointestinal dysfunction.
Enquiry: 8202 9876
 Available in: Cheers, Hospital rehab shop (may need to pre-order with retailer)
---
Unique elemental formula - Hydrolyzed whey peptide & MCT
100% hydrolyzed whey peptides which can be easily absorbed by human body
51% of fat source as medium chain triglycerides (MCT) which can be absorbed to portal directly
Low osmolality (370 mOsm/kg water) which can reduce the risk of osmotic diarrhea
1 - 10 years old patients with impaired GI function
FOOD FOR SPECIAL MEDICAL PURPOSES
USE UNDER MEDICAL SUPERVISION
Maltodextrin, hydrolyzed whey protein (Cow's milk), sucrose, medium chain triglycerides, potato starch, vegetable oils (low erucic acid rapeseed, sunflower), minerals (calcium carbonate, magnesium chloride, sodium chloride, calcium chloride, ferrous sulfate, zinc sulphate, manganese sulphate, copper sulphate, potassium iodide, chromium chloride, sodium selenate, sodium molybdate), emulsifier (soy lecithin E322), acidity regulator (citric acid E330), vanilla flavour , choline bitartrate, vitamins (C, E, nicotinamide, calcium pantothenate, B6, B1, B2, A, folic acid, K1, biotin, D3, B12), taurine, L-carnitine.
Contains milk and soy.
Suggest standard dilution: 
By adding 7 scoops (55 g) of powder to 210 mL of warm water,  to prepare a glass of 250 mL (250 kcal) formula drink.