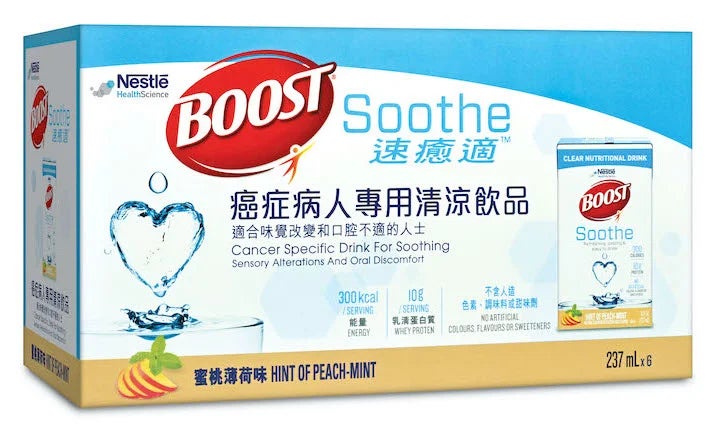 BOOST™ Soothe is a clear oral nutritional supplement with a cooling and soothing effect for cancer patients with sensory alterations and oral discomfort.
Enquiry: 8202 9876
---
Designed for cancer patients with sensory alterations and oral discomfort
Peach mint flavour for cooling and soothing
Relieves bitterness and metallic taste caused by treatment side effect
One pack (237 mL) provides:

Energy: 300 kcal
Protein: 10 g
Fat: 0 g

Contains 10 g of whey protein, easy to digest and absorb, promote protein synthesis and maintain muscle mass
Suitable for lactose intolerance
Ready to drink, convenient and hygienic
Contains no artificial colours
Made in USA
Cancer patient
Pre and post-operative (clear fluid diets)
Protein energy malnutrition
Bowel preparation
Full liquid diets
Fat malabsorption
Elderly
Renal impairment
Pressure injuries, wounds and burns
People who do not like milk supplement
FOOD FOR SPECIAL MEDICAL PURPOSES
USE UNDER MEDICAL SUPERVISION
Water, brown rice syrup, whey protein isolate (4.5%) (contains milk), cane sugar, peach juice concentrate, natural flavour.
Allergen information: Contains milk products.
Suitable for lactose intolerance. Not for children below 3 years or individuals with galactosemia.
Gluten free.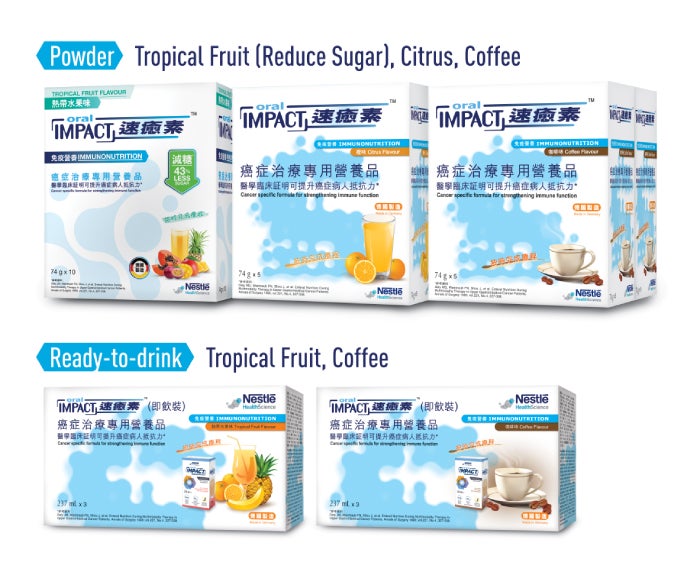 Oral Impact™ (Powder/Ready-To-Drink)
ORAL IMPACT™ Nutritional Supplement is a nutritionally complete enteral formula for cancer patients. It is an unique, immunonutrition containing Arginine, Nucleotides and Omega-3 fish oil. Clinical studies have proven that ORAL IMPACT™ Nutritional Supplement can strengthen immune function of cancer patients.