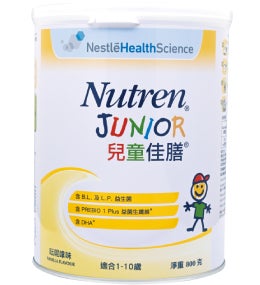 NUTREN® Junior formula is nutritonally balanced formula help provides nutrients to children who cannot consume adequate calories from food.
NUTREN® Junior formula contains 50% whey protein*, easy to digest and absorb. It also contains a special combination of Prebiotics and Probiotics.#
*Each 100 g of protein provides 50 g of whey protein
#Only Powder NUTREN® Junior contains Prebiotics and Probiotics
Order : 2211 3789
Enquiry: 8202 9876
---
Powder:
Each serving (at standard dilution) provides 

7.6 g of protein (whey to casein 1:1), high quality whey protein is easy to digest and support muscle growth
8.2 mg DHA
Probiotics: B. Longum and L. Paracasei with unique prebiotic fibre blend: FOS, Inulin and Acacia Gum

Vanilla flavour
Ready-To-Drink:
Energy: 1 kcal/ mL
One pack (250 mL) provides:

Protein: 7.5 g (12%)
50% high quality whey protein for easily digestion and absorption
Total Carbohydrates: 28 g (45%)
Fat: 12 g (43%)

With CALCILOCK® blend , a combination of essential nutrients including calcium, phosphorus, magnesium, zinc, vitamins D, C and K to help promote healthy bone
Isotonic
Suitable for lactose intolerance
Gluten free
Vanilla Flavour
Suitable for tube feeding and oral supplement
 
Shake well before opening. Once opened, unused portion should be tightly covered, refrigerated, and used within 24 hours.
Children aged 1-10
(For picky eater or children with malnutrition)
Food for special medical purposes. Use under medical supervision.
Powder:
Maltodextrin, sucrose, high oleic sunflower oil, whey protein, potassium caseinate, low erucic rapeseed oil, medium chain triglycerides, mineral (potassium phosphate, calcium carbonate, calcium chloride, sodium phosphate, magnesium chloride, ferrous sulphate, zinc sulphate, manganese sulphate, copper sulphate, potassium iodide, chromium chloride, sodium selenate, sodium molybdate), acacia gum, emulsifier (soya lecithin), oligofructose, sunflower oil, inulin, acidity regulator (citric acid), choline bitartrate, vanilla flavour, fish oil, vitamin (C, E, nicotinamide, calcium pantothenate, B6, B1, B2, A, folic acid, K1, biotin, D3, B12), taurine, L-carnitine, probiotic (lactobacillus paracasei culture, bifidus culture) — 200 million per 100g.
Contains milk product.
Ready-To-Drink:
Water, Maltodextrin, Soyabean Oil, Milk Protein Concentrate, Sugar, Whey Protein Concentrate, Low Erucic Acid Rapeseed Oil, Medium Chain Triglycerides, Calcium Citrate, Emulsifier (Soya Lecithin), Potassium Chloride, Magnesium Phosphate, Sodium Phosphate, Potassium Phosphate, Choline Chloride, Sodium Chloride, Flavouring, Stabilizer (Carrageenan), Sweetener (Stevia), Vitamin C, Taurine, Inositol, L-Carnitine, Ferrous Sulphate, Zinc Sulphate, Vitamin E, Nicotinamide, Calcium Pantothenate, Manganese Sulphate, Copper Sulphate, Vitamin B6, Vitamin B1, Vitamin A, Beta-Carotene, Vitamin B2, Acidity Regulator (Citric Acid), Vitamin B9, Potassium Iodide, Sodium Selenate, Chromium Trichloride, Sodium Molybdate, Vitamin B7, Vitamin D3, Vitamin K1, Vitamin B12.
Allergen information: Contains milk and soyabean products.
Powder:
Suggest standard dilution:
By adding 7 scoops (~55 g) of powder to 210 mL of warm water, to prepare a glass of 250 mL (255 kcal) formula drink.
Ready-To-Drink:
Recommended Daily intake: Up to 3 packs a day or as recommended by a healthcare professional.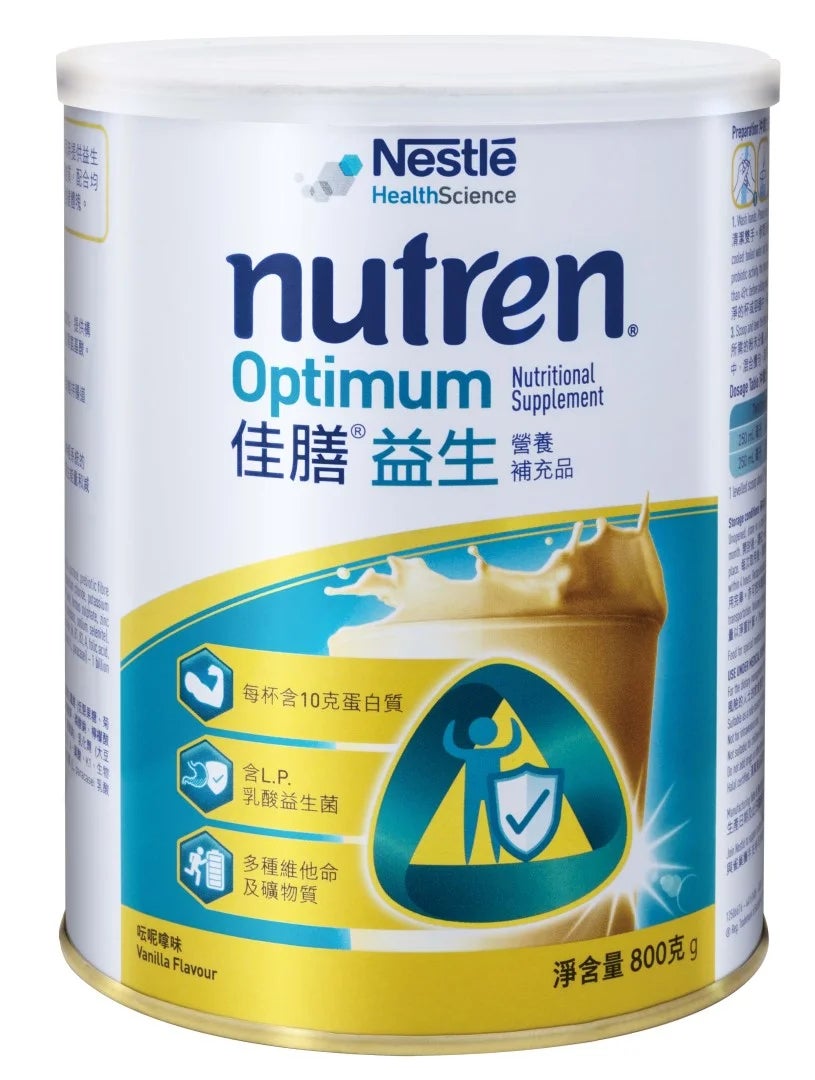 NUTREN® Optimum
NUTREN® Optimum Nutritional Supplement has been specifically design with key nutrients for seniors as supplement, for people at risk of malnutrition, and support recovery.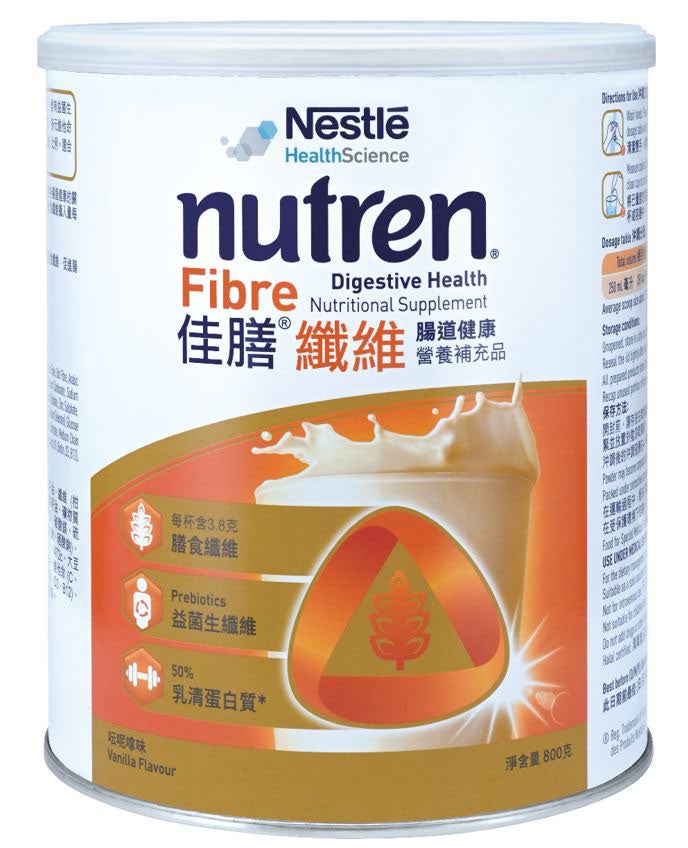 NUTREN® Fibre
NUTREN® Fibre Nutritional Supplement is rich in dietary fibre and prebiotics. Suitable for people who cares for intestinal health, for seniors or for people needing nutritional support as supplement.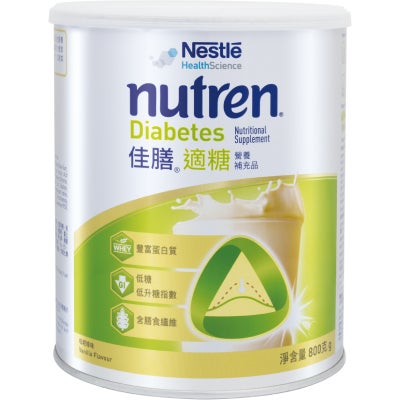 NUTREN® Diabetes
NUTREN® Diabetes Nutritional Supplement is suitable for people concerned about blood sugar.