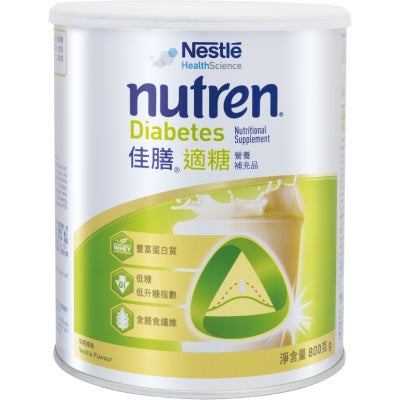 NUTREN® Diabetes Nutritional Supplement is a nutritional balance formula, it is suitable for people concerned about blood sugar*.​
NUTREN® Diabetes is a great breakfast option to set you up for the day ahead or it can be consumed with meals or between meals to help boost your energy, protein, vitamins, and minerals to provide extra nutrition.
---
Good source of Protein, with 50% whey protein that support muscle health​
A special combination of dietary fibre and Isomaltulose (the slowly digestible carbohydrates) that may assist in stabilizing blood sugar*​
Low Sugar and Low Glycemic Index (GI = 37)​
High MUFA (monounsaturated fat); low SFA (saturated fatty acid) and trans fat​
Wide range of vitamins and minerals that is suitable as meal replacement or as sole source of nutrition​
Vanilla flavour
Dietary management for people concerned about blood sugar*
Impaired glucose tolerance
Adult and elderly malnutrition
*This product is not registered under the Pharmacy and Poisons Ordinance or the Chinese Medicine Ordinance. Any claim made for it has not been subjected to evaluation for such registration. This product is not intended to diagnose, treat or prevent any disease.
Ingredients: Modified Starch, Whey Protein (13%), High Oleic Sunflower Oil, Dietary Fibres (Guar Gum, Arabic Gum, Fructo-Oligosaccharide, Inulin), Sodium Caseinate, Isomaltulose, Low Erucic Acid Rapeseed Oil, Glucose Syrup, Sunflower Oil, Casein, Minerals (Calcium Carbonate, Potassium Chloride, Sodium Phosphate, Potassium Phosphate, Magnesium Oxide, Ferrous Sulphate, Zinc Sulphate, Manganese Sulphate, Copper Sulphate, Chromium Chloride, Sodium Molybdate, Potassium Iodide, Sodium Selenite), Emulsifier (471, 472c, 322), Choline Bitartrate, Inositol, Vitamins (C, E, Nicotinamide, Calcium Pantothenate, B6, B1, B2, A, Folic Acid, K1, Biotin, D3, B12), Vanilla Flavouring, Sweetener (950), L-Carnitine, Taurine, Antioxidant (307b, 304, 300), Coconut Oil, Colour (β-Carotene).​
Allergen information: Contains milk, tree nut and soyabean products.
Suggest stand dilution: ​
By adding 8 scoops (~55 g) of powder to 210 mL of water, to prepare a glass of 250 mL (243 kcal) formula drink.